We are looking forward to being able to gather in person for annual conference! To do so, we know some people have childcare needs during our sessions.
Childcare for Younger Children
Childcare can be arranged for children (ages 5 and under) of voting members of Annual Conference 2022, near Brentwood UMC. There is no cost for this care, however, reservations must be made in advance. Please contact us for more information at AC2022@twkumc.org.
Day Camp for Older Children
Voting members of the 2022 TWK Annual Conference with children who have completed Kindergarten through 5th Grade are invited to register for the Annual Conference Day Camp hosted by Cedar Crest Camp. We plan to hold this day camp onsite at Brentwood UMC.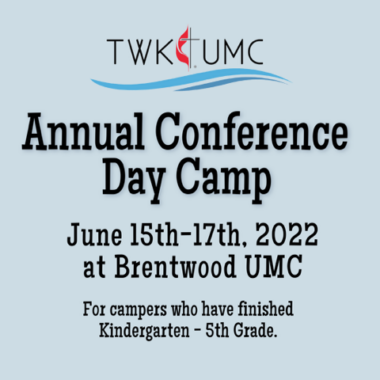 The Day Camp will meet Wednesday, Thursday, and Friday during the scheduled gathering times of the Annual Conference. Please note that this does not include the Service of Licensing, Commissioning, and Ordination on Thursday evening.
There is currently a limited number of spaces so sign up soon! Cost and other details may be found using this registration link and scrolling down to the "Annual Conference Day Camp" opportunity at Brentwood United Methodist Church.
The deadline to sign up is noon on Friday, June 10. A waitlist will be created if we fill up open slots before that date.
When you are on the page, please scroll down to find "Annual Conference Day Camp."