GIVE FINANCIALLY
Online: Donate to Disaster Response Fund
Checks made out to the Tennessee-Western Kentucky Conference (TWKUMC) can be mailed to:
PO Box 440132, Nashville, TN 37244
(please note Disaster Response in the memo line)
REPORT THAT YOU NEED ASSISTANCE WITH CLEANUP
A Crisis Cleanup Helpline has been set up to coordinate clean-up relief efforts for all impacted areas from the tornadoes this weekend. Individuals needing property clean-up assistance can call 800-451-1954.
Please report Church damage to your district office, DS, and/or to Robert Craig, Disaster Response Coordinator
VOLUNTEER TO HELP IN KENTUCKY AND/OR TENNESSEE
The Tennessee-Western Kentucky Conference and the Kentucky Conference are partnering in this response effort. Please fill out the appropriate form to volunteer to bring a team to assist. Thank you!
*** VOLUNTEER FORM – This form is specifically for individuals and volunteer teams from churches or other organizations who will be helping over the coming weeks and months. ***
This ERT Volunteer Form is for badged Early Response Teams credentialed by an UMCOR trainer: ERT Volunteer Form
LET US KNOW YOU WANT TO SEND SUPPLIES
Please DO NOT send or bring supplies without first checking with us about where those supplies may be needed. At this time, we do not have warehouse space to store supplies and we may need for you to wait to send things. Fill out the SENDING SUPPLIES FORM to inform us about what you have so we can get back to you regarding what to do. THANK YOU!
---
NEWS AND UPDATES
December 15, 2021
BISHOP VISITS IMPACTED AREAS
Bishop McAlilly and his wife, Lynn, traveled on Sunday to areas hit by tornados within the Purchase and Mississippi River Districts, witnessing the damage firsthand, as well as talking to and praying with residents grieving in the wake of the storm.
They attended worship in Mayfield, KY at Christ UMC with members of destroyed Mayfield First UMC and their pastor, Rev. Joey Reed, who had been invited to preach.
The tornados that hit early Saturday morning destroyed Mayfield First UMC, Dresden First UMC, the parsonage in Cayce, and many homes of congregation members. Tragically, it is confirmed that a member of Mayfield First UMC died in the tornado. Five families in one small church, McKendree UMC in Graves County, lost their homes.
The conference is still assessing which churches and congregations have been affected. District superintendents report significant damage in Dresden, Samburg, Kingston Springs in Tennessee as well as in Mayfield, Cayce, and Benton in western Kentucky.
On Sunday, assistant to the bishop, Rev. Dr. Rob Martin, disaster response coordinator, Robert Craig, and the District Superintendent of the Purchase District, Rev. Nancy Johnston Varden, also attended worship in Mayfield.
The invitation extended to the Mayfield First UMC congregation by Christ UMC was a powerful example of the United Methodist Church's connectionalism, according to the Rev. Joey Reed. On Monday morning, Rev. Reed was interviewed by CBS Mornings.
Many people who identified themselves to Bishop McAlilly as United Methodist were clearing debris. The connectionalism of the UMC is a defining force of our denomination that is presently fueling the disaster response efforts of various UMC-affiliated groups already on the ground.
Almost immediately after the historic storm subsided, Robert Craig, the TWK disaster response coordinator, and other volunteer groups began to chart a course for intentional, coordinated relief efforts, as well as ensured that UMC funds would be directed to the areas most urgently in need. Our conference will be partnering with the Kentucky Annual Conference on the United Methodist response to the storm.
We are still in the search/rescue and assessment phase in many communities. Organizations that provide shelter and food are getting set up in affected areas. A Crisis Cleanup Helpline has been set up to coordinate clean-up efforts for all impacted areas; individuals needing this assistance can call 800-451-1954. The TWK Conference has two teams of UMCOR-trained volunteers who specialize in debris removal and chainsaw work that will be deployed this week.
We thank you for your outpouring of support, both financially and spiritually. We will post a volunteer portal to this page soon for those who are not currently credentialed to serve on Early Response Teams.
Photos: Damage to Dresden First UMC in the Mississippi River District in TN, as well as Samburg.
ADDITIONAL NEWS REPORTS
Tragedy in the Heartland, CBS Mornings, December 13, 2021
United Methodists respond after devastating twisters, UM News, December 13, 2021
Faith groups' disaster response relies on local and national agencies in hard-hit states, The Tennessean, December 14, 2021
Stepping into the Challenge Bishop McAlilly's Blog, December 14, 2021
The connection at work, Kentucky Conference website, December 15, 2021
December 11, 2021
TORNADO AND STORM DAMAGE
The early morning storms left damage across our conference today, especially in the Purchase and Mississippi River districts. Reports are still coming in. Please contact your district office to let them know if you, your church, or your neighboring community sustained damage.
Donations are the best way to respond right now. We will host volunteers to help with clean-up across the area as community leadership determines it to be safe.
Photos: Damage to Cayce UMC and Mayfield First UMC in the Purchase District in KY and Dresden First UMC in the Mississippi River District in TN.
---
---
RECOVERY IS STILL UNDERWAY FROM PREVIOUS FLOODS AND TORNADOES IN OUR AREA
Disaster Fund Allocations
08/18/2021
Disaster Survivors Still Can Use Your Help!
While the tornado leaves a lasting visual reminder and a strong response from the community, the floodwaters that came later left quickly, mistakenly leaving the community believing there are not any flood survivors left with disaster-related needs. There has been less attention on the news, less funding, and fewer volunteers to help survivors still left behind in need.
Churches ALWAYS may donate to the Disaster Response Fund and the TWK conference Allocations Committee can use those collective funds to help survivors meet recovery needs.
The team has been overwhelmed by the sense of community experienced with the Allocations Committee response to disaster survivors. It has made a lasting impact with those involved as shared by representatives Jeff Ford and Sarah Herrick from Cross Point Church.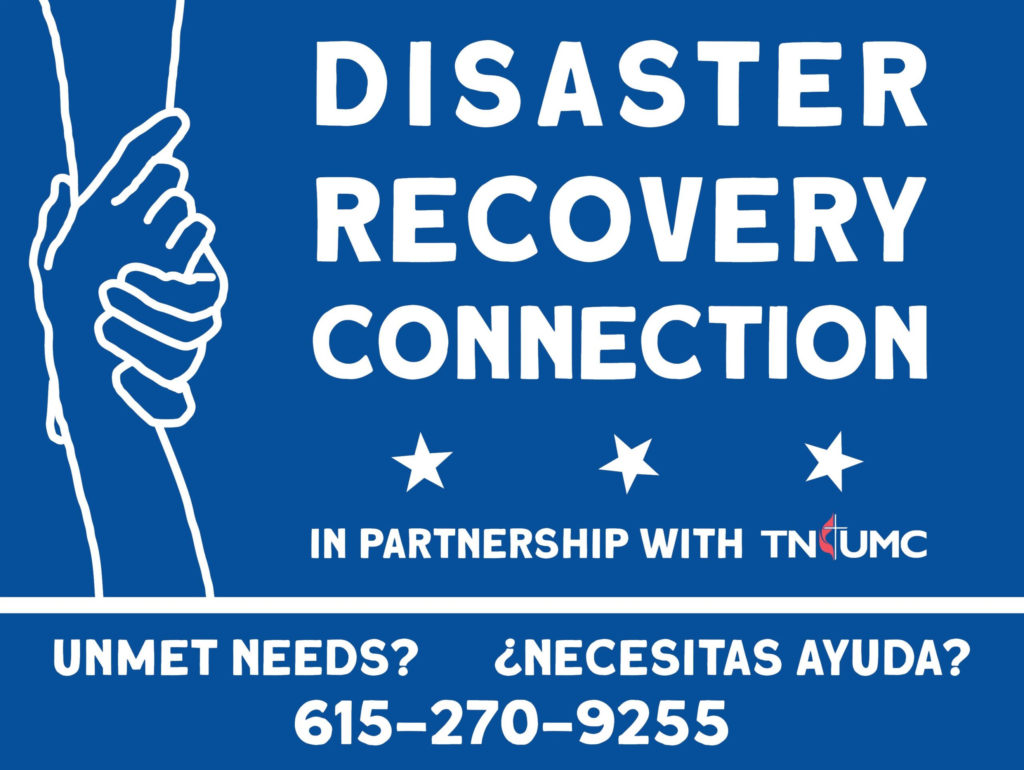 One of the hardest things for us as missions pastors has been deciding how to allocate the financial resources that Cross Point attendees have entrusted us with. In the past, when Cross Point had to decide if we were going to allocate funding to an individual, it was difficult to determine if we were truly meeting a need or if our funding would be able to help truly change an individual's circumstances.
Being a part of the Long Term Recovery Group's Allocations Committee has alleviated that burden. Through the Allocations Committee and the funding table, we know that our funding is going toward the best use possible – rebuilding homes and rebuilding lives.
The Disaster Recovery Connection case management team does the beautiful, hard work of walking alongside the individual, vetting their circumstances, and securing all possible outside funding before bringing their case to the committee.
Because of this process, we can be confident that our funding will be going toward a trusted construction partner to help bring restoration to the individual. We just get to sit back, hear their story, and give our best yes. Not only that, but we sit at the table with other churches and organizations so that the burden doesn't fall on any one organization and together we can meet the need in a display of unity. It brings to mind the fellowship of believers in the early churches in Acts.
Of all the things Cross Point has seen and done responding to disasters in Middle TN in the last two years, being a part of the Allocations Committee and the funding table has been our favorite.
Come to the table. I can assure you, you won't regret it. – Jeff Ford and Sarah Herrick, Cross Point Church
For those with large designated disaster or mission funds who would like to represent your church and participate directly in the process of meeting survivors' recovery needs, you may reach out to Eileen Lowery eileen.lowery@tnumc.org to learn more about being on the disaster Allocations Committee.