Donated Supplies to be Gathered on September 25
Updated – 9/15/2021
On Saturday, September 25, members of the Disaster Response Team will begin gathering the supplies donated for flood survivors.
If your church is in the Memphis Conference, supplies will be picked up from the following locations on Saturday, September 25 (please communicate with your district office about drop-off deadlines):
Mississippi River District: District office, 1382 West Church Street, Alamo, TN 38001
Purchase District: District office, 2285 Jack Treas Rd., Kirksey, KY 42054
Tennessee River District: Forest Heights UMC, 863 W. Forest Ave., Jackson 38301
If your church is in the Tennessee Conference, please bring supplies as indicated below:
September 25 (7 a.m.- Noon): TN Conference Office, 304 S. Perimeter Park Drive, Nashville 37211
October 2 (7 a.m.-Noon): Franklin First UMC barn, 120 Aldersgate Way, Franklin, TN 37069
The team will store some supplies in our conference "on both sides of the river" for future use. The remainder will be delivered to the UMCOR warehouse to replenish supplies, so survivors of Hurricane Ida can be assisted.
---

District Drop-off Points for Flood Response & Recovery Supplies
Updated – 9/07/2021
This list is frequently updated. Please check the date above for date of the most recent update.
Thank you for the outpouring of support for those affected by the flooding. Our districts have identified drop-off points for needed supplies that will be taken into the areas. Please only donate the items requested!
The items needed include:
UMCOR cleaning kits*
UMCOR hygiene kits*
large heavy duty garbage bags
blowers or fans
medium plastic totes
rakes
square shovels
Housing needed for Early Response Teams: Clifton Tackett will be coordinating the Early Response Teams and Volunteer teams. Within the next week we will need 4-5 Churches in the surrounding areas (within a short driving distance to the flooded areas) that can house one or more work teams. The churches should have showers, potable water, cooking space or someone to cook for them. If your church can help, contact Clifton Tackett at dctackett02@gmail.com
RED RIVER DISTRICT
New Providence UMC will host as a collection site for Disaster response at 1317 Ft. Campbell Blvd, Clarksville, TN 37042 Contact person is Jodi McBryant (931) 436-3883New Providence UMC
Kingston Springs UMC has volunteers who can take supplies weekly to Waverly so they don't have to wait so long to receive donations. The church is located at 368 N Main St., Kingston Springs, TN 37082
GIFT CARDS (VISA OR MASTERCARD) ARE NEEDED. Supplies needs are full. No new supplies are needed at this time!
Bascom United Methodist Church at 6028 Clydeton RdWaverly, TN 37815, Contact Person: Dick Grice, 931-296-2238 email: dickbetty@live.com Call to schedule drop-off. Will continue to be an ongoing collection site as long as is needed.
Glenwood United Methodist Church1610 Forks of the River Rd.Waverly, TN 37185, Contact Person: James May, 931-296-5464, Cell 931-209-7928, email: 3ruffinit@gmail.com Call to schedule drop-off. Will continue to be an ongoing collection site as long as is needed.
STONES RIVER DISTRICT
Antioch UMC: 41 Tusculum Rd, Antioch, TN 37013
Fellowship UMC : 2511 New Salem Highway, Murfreesboro, TN 37128
Tullahoma First: 208 W Lauderdale St, Tullahoma, TN 37388
Drop off dates and times are:
Monday, August 30, through Friday, September 3, 2:00 pm – 6:00 pm
Saturday, September 4, 8:00 am -12:00 pm
CANEY FORK RIVER DISTRICT
The Caney Fork River District will be collecting UMCOR cleaning kits, UMCOR hygiene kits, and the other items requested such as large heavy-duty garbage bags, blowers, medium plastic totes, rakes, and square shovels. Cookeville FUMC has agreed to be our donation site, and the district will be working with Cookeville FUMC to arrange transport of the items and need volunteers.
Those donations will be accepted Monday through Thursday from 9:00 a.m. until 4:00 p.m. and on Fridays from 9:00 a.m. until noon at the Freeman building, located at 165 E Broad Street, Cookeville. Please call Cookeville FUMC before delivery at 931-526-2177.
HARPETH RIVER DISTRICT
Points of contact for Harpeth River District are Rev. Jim Melrose (cell 615-504-2297) or Rev. David Lay (cell 931-244-4594).
Delivery location for donated items is Kedron United Methodist Church, 6001 Highway 48, Pinewood, TN. Call Rev. Melrose at 615-504-2297 before making deliveries to ensure someone will be at the church to meet you.
PURCHASE DISTRICT
Purchase District's deadline for donations is Sept. 13. The drop-off location is Purchase District UMC, 2285 Jack Treas Rd., Kirksey, KY 42054. The hours are Mon.-Thur., 8 a.m.-5 p.m., please call before delivery.
MISSISSIPPI RIVER DISTRICT
Drop off points, effective immediately thru September 13 or as specified by the Conference (Please call before delivery)
Lighthouse UMC, (same bldg. as District Office), 1382 W. Church St., Alamo, TN. Call Vicki Dunagan at 731-696-4117 or Rev. James Luvene at 901-573-6226 (Monday – Thursday, 9:00 a.m. – 1:00 p.m.)
Pleasant Valley UMC, 1422 Pleasant Valley, Union City, TN – Contact Terry English at 270-207-8076 or Ann Cheatham at 731-796-0522 (Wednesdays and Thursdays, 9:00 a.m. – 1:00 p.m.)
Trenton First UMC, 500 S. College St., Trenton, TN – Call Rev. Brian Griffith at 731-676-2412 (Monday – Thursday, 8:30 a.m. – Noon)
CUMBERLAND RIVER DISTRICT
There are 3 drop-off sites with a deadline of September 13 for all donations.
Calvary UMC: 3701 Hillsboro Rd, Nashville TN 37215
Drop off Tuesday-Fridays in the chapel from 9 a.m.-1 p.m.
Contact: David Low @ 615-477-8633 Please call prior to dropping off
Hendersonville First UMC: 217 E Main Street, Hendersonville TN 37075
Drop off Monday-Friday, 7:30 a.m.-4 p.m. & Sundays 8 a.m.-12 p.m.
A U Haul will be available in the parking lot during above days/times for drop off.
Contact: Suzanne Newman @ 615-824-8725
Lebanon First UMC: 415 W Main Street, Lebanon TN 37087
Drop off Monday-Thursday, 9 a.m.-4 p.m.
Contact: Pam or Lucinda @ 615-444-3315
TENNESSEE RIVER DISTRICT
McKenzie First/TN River District Office. 16 McTyeire St. McKenzie TN 38201
Monday-Thursday 9:00-4:00 Contact Delores Smith @ 731-487-0084
Camden First 104 Church ST. Camden TN 38320
Monday-Thursday 10-12 Contact the church office @ 731-584-6081
Paris First 101 Blythe St Paris TN 38242
Monday-Friday 10-12 Contact the church office @ 731-642-4764
Forest Heights 863 W. Forest Ave. Jackson TN 38301
Contact Rev. Drew Brewer 931-796-2681
Drop off deadline for these locations is September 13.
METRO DISTRICT
The following churches have agreed to be drop-sites for supplies thru September 13 (note days and times vary by location):
Bartlett UMC
5676 Stage Rd., Bartlett, TN
901-386-4563
Drop-off times: Monday-Thursday, 9 a.m.-4 p.m.; Friday, 9 a.m.-12 p.m.
St. John's
1207 Peabody Ave., Memphis TN 38104
Drop-off times: Monday-Thursday, 8 a.m.-3 p.m.; Friday, 8 a.m.-11 a.m.
Munford UMC
57 Tipton St S, Munford, TN 38058
(901) 837-8881
Drop-off times: Monday-Thursday, 9 a.m.-5 p.m.; Friday, 9 a.m.-12:30 p.m.
Also needed are volunteers to pick up supplies from drop-off sites and deliver where needed. If you or a church member are interested in this volunteer opportunity, please email your contact information to auturaeason-williams@metrodistrict.org.
This list will be updated as more information is received from our districts.
* How to prepare UMCOR Cleaning and Hygiene Kits
---
Help Survivors from August 2021 Storms and Flooding
Update – 08/22/2021
At this time, Emergency Services first responders are working in flooded areas to attend to immediate needs. When it is safe for us to send in teams to respond, the conference Disaster Response Coordinator will send out a message.
In the meantime, he asks that we all pray for those affected and to donate, if you can, to the disaster response fund set up to help in these situations. Thank you.
Online: Donate to Disaster Response Fund
By mail: Checks can be made out and mailed to the Tennessee Conference (with Disaster Response in the memo line) at PO Box 440132, Nashville, TN 37244
---
---
Disaster Fund Allocations
Update – 08/18/2021
Disaster Survivors Still Can Use Your Help!
While the tornado leaves a lasting visual reminder and a strong response from the community, the floodwaters that came later left quickly, mistakenly leaving the community believing there are not any flood survivors left with disaster-related needs. There has been less attention on the news, less funding, and fewer volunteers to help survivors still left behind in need.
Churches ALWAYS may donate to the Disaster Relief Fund and the TWK conference Allocations Committee can use those collective funds to help survivors meet recovery needs.
The team has been overwhelmed by the sense of community experienced with the Allocations Committee response to disaster survivors. It has made a lasting impact with those involved as shared by representatives Jeff Ford and Sarah Herrick from Cross Point Church.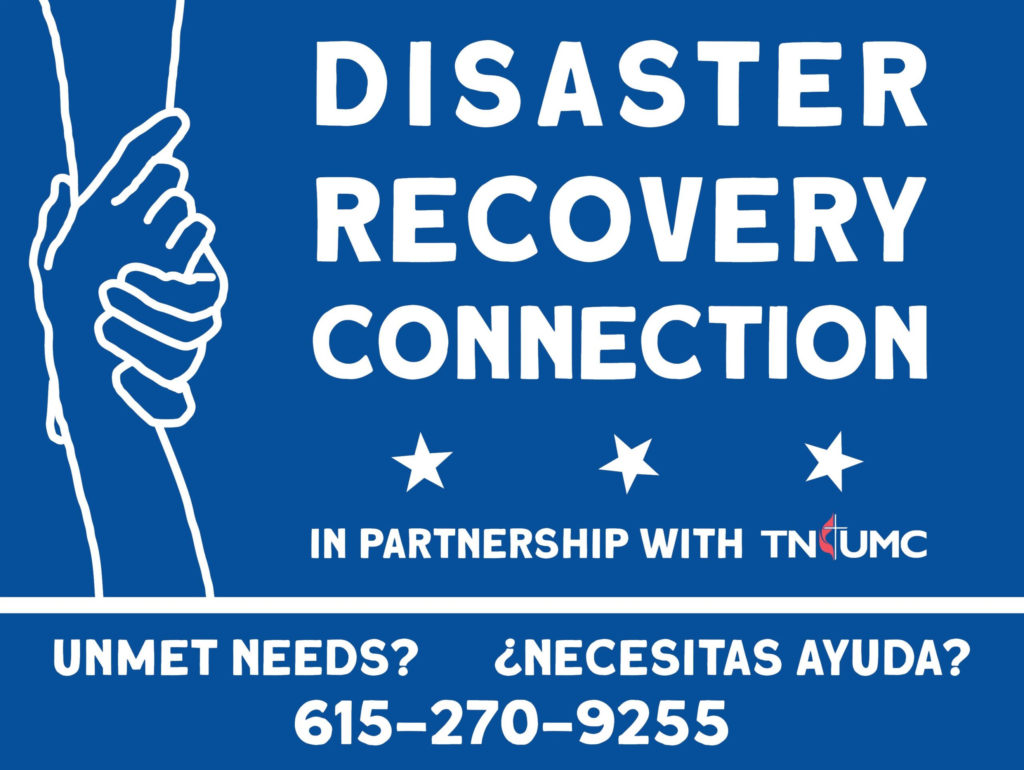 One of the hardest things for us as missions pastors has been deciding how to allocate the financial resources that Cross Point attendees have entrusted us with. In the past, when Cross Point had to decide if we were going to allocate funding to an individual, it was difficult to determine if we were truly meeting a need or if our funding would be able to help truly change an individual's circumstances.
Being a part of the Long Term Recovery Group's Allocations Committee has alleviated that burden. Through the Allocations Committee and the funding table, we know that our funding is going toward the best use possible – rebuilding homes and rebuilding lives.
The Disaster Recovery Connection case management team does the beautiful, hard work of walking alongside the individual, vetting their circumstances, and securing all possible outside funding before bringing their case to the committee.
Because of this process, we can be confident that our funding will be going toward a trusted construction partner to help bring restoration to the individual. We just get to sit back, hear their story, and give our best yes. Not only that, but we sit at the table with other churches and organizations so that the burden doesn't fall on any one organization and together we can meet the need in a display of unity. It brings to mind the fellowship of believers in the early churches in Acts.
Of all the things Cross Point has seen and done responding to disasters in Middle TN in the last two years, being a part of the Allocations Committee and the funding table has been our favorite.
Come to the table. I can assure you, you won't regret it. – Jeff Ford and Sarah Herrick, Cross Point Church
For those with large designated disaster or mission funds who would like to represent your church and participate directly in the process of meeting survivor's recovery needs, you may reach out to Eileen Lowery eileen.lowery@tnumc.org to learn more about being on the disaster Allocations Committee.