TWK Youth Ministry Transition Team
What is the Mission of the TWK Youth Ministry Team? 
The youth ministry of the Tennessee-Western Kentucky Conference exists to connect, equip, and invest in youth and their leaders in order to develop communities of faith in which students from all backgrounds find belonging, serve their neighbors, and grow as followers of Christ. 
What Does This Team Do?
The Tennessee-Western Kentucky [TWK] Youth Ministry Transition Team oversees the conference youth ministry events, addresses the immediate pressure points facing the conference youth ministry, establishes a consensus for the direction of the youth ministry responding to emerging transitional needs and issues, and supports the youth ministry infrastructure.
What are the values of the TWK Conference Youth Ministry? 
The TWK Conference Youth Ministry strives to be: 
Bold - Trusting in God's Spirit to provide, we confidently walk forward, unapologetically passionate in our conference's commitment to ministry with young people.
Gracefully Engaging - We seek to create meaningful connections with youth and their leaders while embracing people where they are. 
Intentionally inclusive – We seek to create a safe environment where every voice is valued and every youth is welcomed with love. 
Empowering - We purposefully invest in youth, encouraging them as they learn and lead in ministries for, with, and by youth. 
Sustainable – We are committed to ministries, systems, practices, policies, and programs that maximize the future of the conference youth ministry.  
Want to connect with us on Social Media? 
We're on Facebook and Instagram as @twkumcyouth. We would love for you to connect with us! 
Want to receive TWKUMC Youth Ministry updates?
---
The TWK Youth Team invites you to join them on March 4-5 for their 2023 Be Retreat: Belong! This TWK children's spiritual life event is designed for 3rd – 5th grade children. Learn more!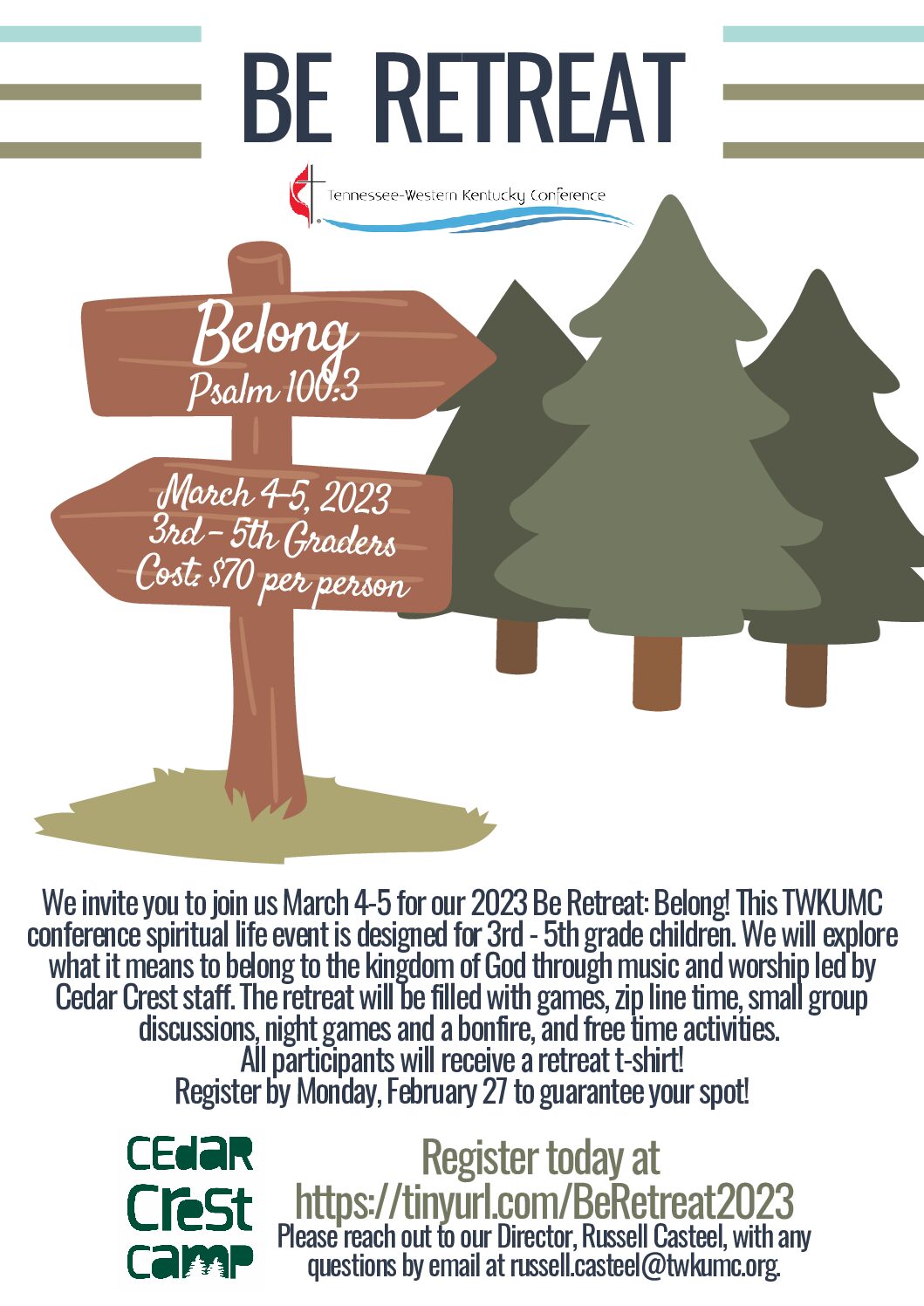 Who is on this team?
The TWK Youth Ministry Transition Team consists of Youth and adults from across the Tenneessee-Western Kentucky Conference who are passionate about conference youth ministry. The members of the team are listed below, Youth members are indicated by an asterisk.
Amanda Hartmann Westmoreland – TWK Youth Ministry Co-coordinator
Jordan Littrell – TWK Youth Ministry Co-coordinator 
Jefferson Furtado – Liaison to the TWK Guide Team 
Emma Collard* – Stones River District 
Sophie Barker* – Metro District 
Virginia Varden* – Purchase District 
Graham Wheeler* – Caney Fork River District 
Latricia Trull – Tennessee River District 
Allison Doyle – Tennessee River District 
Joshua Shaw – Mississippi River District 
Hank Hilliard – Harpeth River District 
Russell Casteel – Harpeth River District 
Beth Shirley – Stones River District 
Christine Penner – Caney Fork River District