GORDON MEMORIAL HOSTS BIG BAND CHRISTMAS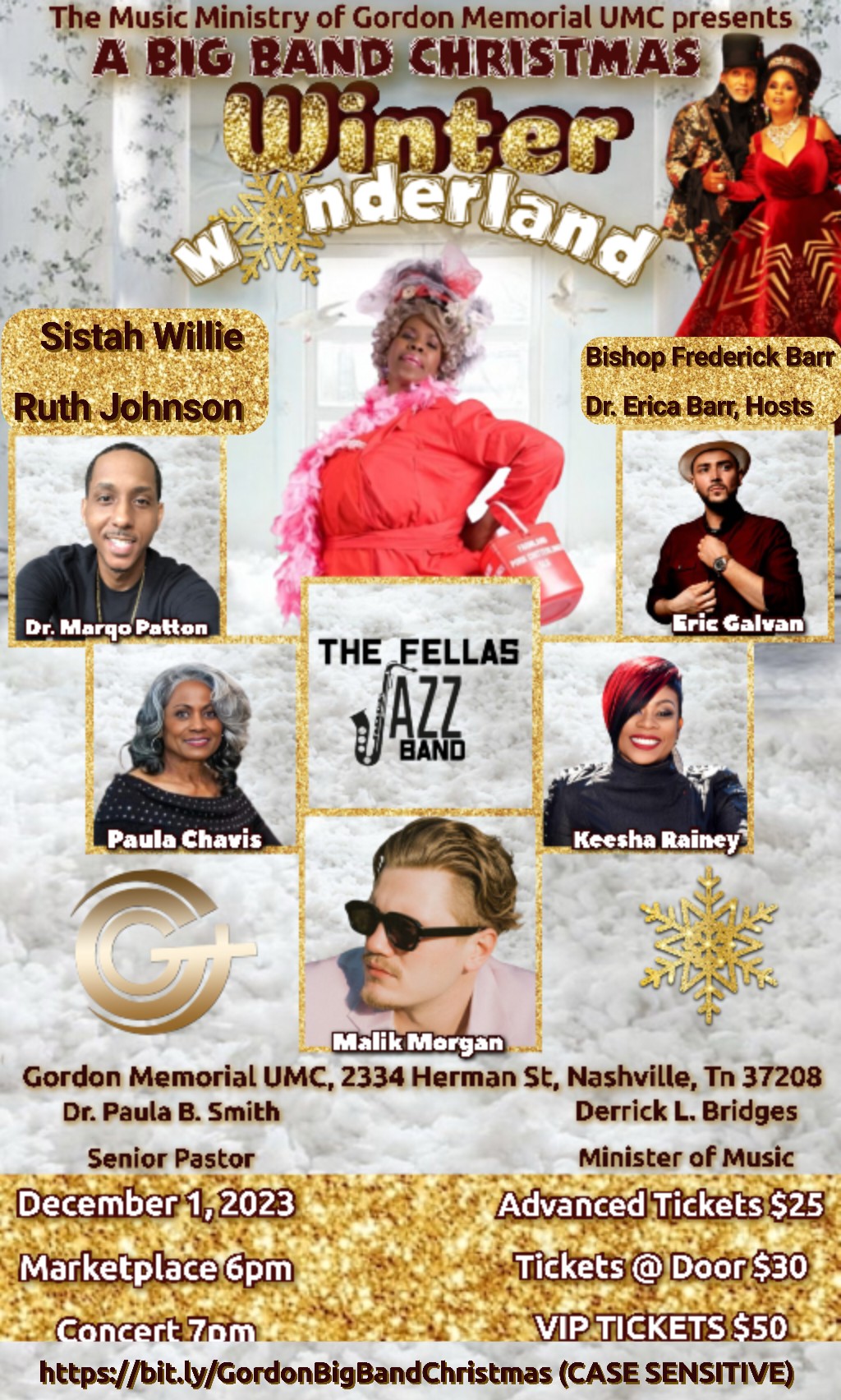 Jazz great Nina Simone once said "Jazz is not just music, it's a way of life, it's a way of being, a way of thinking." Dr. Paula B. Smith, senior pastor, and the music ministry of Gordon Memorial United Methodist Church is on a mission to minister joy and hope in a world full of uncertainty as it is preparing to host the second Big Band Christmas concert.
"Winter Wonderland" will be held on Friday, December 1, 2023 at 7 pm in the church sanctuary located at 2334 Herman Street. There will also be a marketplace for small businesses in the historic sanctuary. It will begin at 6pm.
The concert will feature The Fellas Brass Band, an entity comprised of members and alumni of Tennessee State's Grammy award winning Aristocrat of Bands. The members of the band are Marshun McGee, Jr, Mateo Smith, Joshua Knox, Darrell Black, DaCarlos Street, Cameron Jones, Thurman Blake, Antonio Brown, Jeremiah Mensa-Shebra, Emmanuel Coleman and John Harris, II. Derrick Bridges, the minister of music and event organizer, said that he remembers making a statement that" there needed to be a merge of gospel music and HBCU bands in order for the world to experience this type of music on a different level. Three years later, AOB is Grammy winners. There is a great separation of church and the world of academia. This year we really would like to do all that we can to bridge the gap."
The concert will feature a variety of tunes and styles with the addition of comedy provided by Sistah Willie Ruth Johnson, alter-ego of Sherre Miller Bishop, a cancer survivor and a news reporter-public relations turned comedienne and dramatist. The vocalists will be artist Malik Morgan; Dr. Marqo Patton, professor of music business at Belmont University; Keesha Rainey, the Music City national anthem diva; soul crooner Eric Galvan, and Paula Chavis of The Hurd Agency. The hosts of this wonderful event will be Bishop Frederick and Dr. Erica Barr, pastors of LIFE Church International and owners of Barr's Soul Food.
A portion of the proceeds will go to the Barbara Gray-Thomas Endowment and Scholarship Fund and to an initiative that provides music lessons and coaching sessions to youth in the underserved communities.
Any businesses that would like to participate in the marketplace may contact Theresa Franklin-Hill at theresahill01@comcast.net. Potential sponsors may contact Gretchell Jordan at granniegret@yahoo.com. Bridges may be reached for any other information at tranzparentmusic@gmail.com